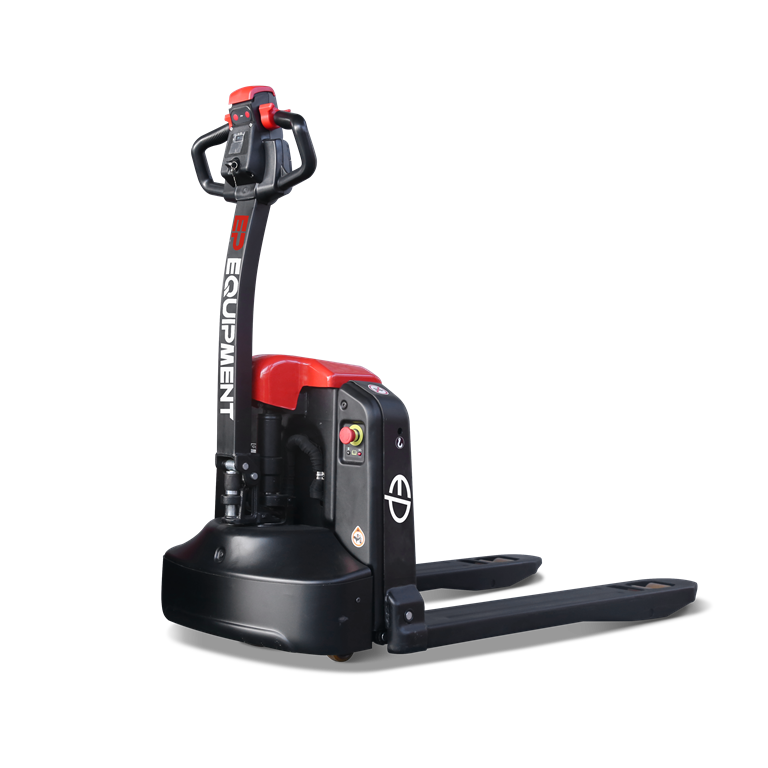 1.8T Powered Pallet Truck
Product Code: EPL185
SKU: EPL185
Optimized structure, easy operation
The metal protective cover of battery can be flipped over, which can effectively protect the battery;
The battery has simple cover with two combination modes, it can prevent the battery from plugging and unplugging at will.

Safe
The truck uses the second generation drive technology and brushless DC motor. There is no need to replace the carbon brush and the drive is more powerful. Its max. Gradeability can reach 10% for the high power version.
New plug-in & out battery design
On-board charger with plug-in&out battery to satisfy different working condition.
Fast charging can be optionally equipped with. Li-ion battery developed by EP is equipped with CAN and BMS, which is more convenient to use.
Rigorous design and convenient maintenance
Floating battery cartridge to protect battery contact pins.

Lift Height: 115mm
Capacity: 1800kg
Lowered Height: 80mm
Fork Dims: 1150 x 150 x 50mm
Width over forks: 540mm - (685mm option also available please enquire for more info)
Ground Clearance: 30mm
Aisle width for pallets 1000 x 1200mm crossways: 2094
Aisle width for pallets 800 x 1200mm length ways: 2146
Turning Radius: 1330mm
Drive motor rating S2 60 min: 0.9Kw
Lift motor rating at S3 15%: 0.8Kw
The maximum allowed size battery: 270 x 110 x 440mm
Battery voltage/nominal capacity K5: 48/20 (30 option please enquire for more info)
Delivery and Returns
Please click on the link below to view our delivery and returns policy