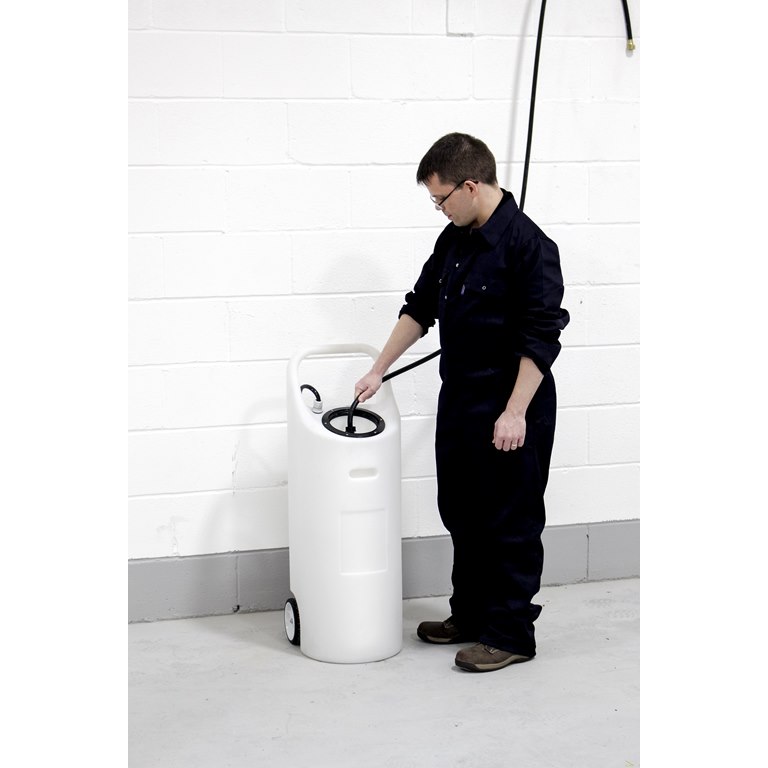 HydroFill PRO with Integrated Deioniser
Product Code: CRT-30XT
SKU: CRT-30XT
The HydroPure™ deioniser cartridge fits inside the HydroFill™ PRO making it the only mobile water cart with an integrated deioniser. You can now make pure water instantly, taking it to the batteries that need it, wherever they are.
We provided the marketplace with a breakthrough method of transporting the water your batteries need to the place you need it most. Keeping your batteries topped up, where needed is often harder than it should be and costs more than it needs to. We solved that problem with our revolutionary HydroFill™, an easy to use, sturdy, compact and battery powered mobile water carrier. Now the best selling battery powered cart has just got even better.
The HydroFill™ PRO brings a new set of features to our HydroFill™ range. With a huge 60 liter capacity and a tactile LCD display that gives you instant feedback, the HydroFill™ PRO greatly improves your battery watering capability. The smart display even lets you know the purity of the water as you are topping up your batteries, to make sure your water is pure each and every time.
We've integrated our deioniser cartridge, giving you pure water for your batteries each and every time you need to top them up.
The HydroFill™ PRO has the added benefit of regulated output pressure delivering water at a constant 14.5psi/1 bar making it quick and easy to use with float based battery filling systems such as our AFS system. The HydroFill™ PRO is supplied with a quick connect fitting and a 3 meter hose as standard, giving you all the flexibility you'll need to keep your batteries topped up.
Includes integrated deioniser, cartridge and timer, and a battery watering gun.
Delivery and Returns
Please click on the link below to view our delivery and returns policy